Posted by
January 14, 2016

. on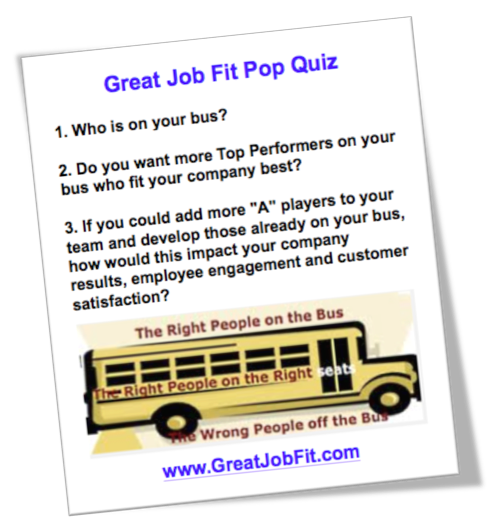 Tuesday, February 2016, 11:00AM Eastern
Great Job Fit: How to Get the Right People on Your Bus!
How do you answer these three important questions that many company leaders have addressed after reading Jim Collins' best selling book – "Good to Great".

1.  Who is on your bus?
2.  Do you want more Top Performers on your bus who fit your company best?

3.  If you could add more "A" players to your team and develop those already on your bus, how would this impact your company's results, employee engagement and customer satisfaction?  

Learn how companies and organizations are excelling by putting the right people on their bus, placing them in the right seat, promoting them to positions that fit them best and help plan for future success through succession planning.   An additional Q&A session at the end of the presentation will complete the scheduled 45 minute webinar.  Everyone who registers for this webinar will receive a free copy of the eBook Job Fit: The Power of the Right Person.
The webinar will address many of the topics presented in this eBook including:
What is job fit?

Why you should establish job fit

The concept of job fit in 3 simple steps

The impact of job fit on the individual

The organizational impact of identifying job fit

How job fit assessments help you hire and develop

Big data, HR style

How to spot a job fit problem

Webinar seating is limited so Register Today!   After you register, you will receive an email with webinar call instructions.